Fisher Island Real Estate
Fisher Island House (one of only 12 single-family homes on Fisher Island)
Fisher Island real estate is a 216-acre private island residential community of unrivaled luxury and splendor. It has its own zip code, 33109. Residents who own homes and condos in Fisher Island, Club members and Hotel & Resort guests enjoy a host of sumptuous amenities. The classic, mediterranean-style real estate of this private residential community of Fisher Island is nestled in a tropical-lush island club resort. Here, residents discover the privacy and security of an island where cultures from 40 nations blend against the backdrop of a cobalt-blue sky and Atlantic Ocean. Placing its residents and guests within all the charms of South Florida, this special destination is only a few minutes away from Miami and Miami Beaches' finest theaters, museums, shopping and nightlife. From it's luxurious spa and health club, pristine beaches and swimming pools, to its tennis, golf, restaurants and lounges, this private community is easy to reach by boat, seaplane, helicopter or car ferry. Fisher Island, which was ranked by Forbes as #37 of America's most expensive zip codes, boasts a not too shabby median home price of $2,295,291. Forbes recently published it's new list, with 4 Miami zip codes earning a spot as one of America's highest priced places to buy a home or condo, including aforementioned Fisher Island (33109), Key Biscayne (33149), Coral Gables (33146), and 2 small communities just north of Miami Beach -- Bal Harbour and Indian Creek (33154).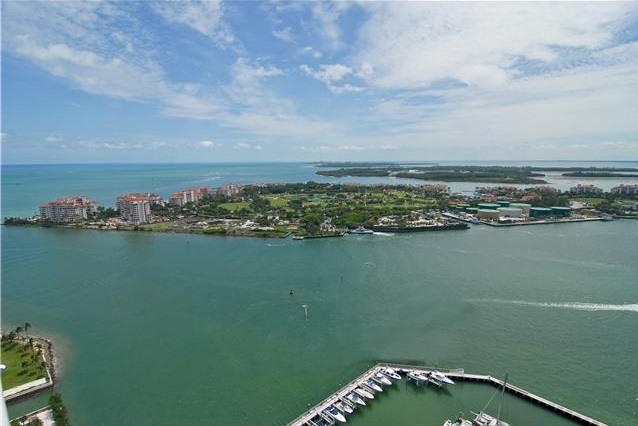 Fisher Island
Palazzo del Sol On Fisher Island Defines Luxury
Palazzo del Sol developer Heinrich von Hanau claims that his new apartment building being built on the last parcel of undeveloped land on Fisher Island, will be "a product that defines luxury." The 10 stories high building will consist of 47 ultra-luxury apartments ranging in size from 3,700 square feet to 9,700 square feet, and prices will range from $5 million to $32.5 million, according to a report by Forbes Magazine. According to Heinrich von Hanau, Palazzo del Sol at 7000 Fisher Island Drive is scheduled to open in 2016, and will be Fisher Island's finest development, with properties spacious enough to lure young wealthy families wanting to live full-time on the beautiful island. The property is being advertised as "the only building on Fisher Island that comes full service with a 24-hour concierge and will have the island's first air-conditioned, instead of open air, lobby." Palazzo del Sol will have its own pool and amenities, and the new condo owners will have the use of the island community's beach club and enjoy all of the luxuries that come with being a Fisher Island resident.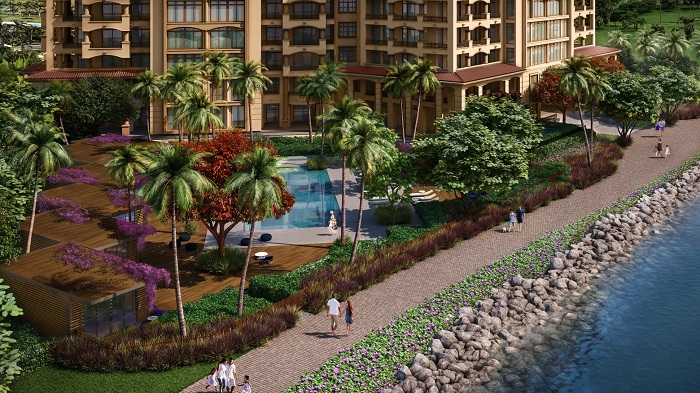 Palazzo del Sol On Fisher Island (photo rendering courtesy of Fisher Island Holdings)
Fisher Island History
In 1906 Fisher Island was Created by Government Cut and in 1918 Herman B. Walker sold to Dana A. Dorsey (21-acres). In 1919 Dorsey sold the Island to Alton Beach Realty, owned by Carl Fisher, who quadrupled the area in land mass to develop for real estate. Then in the mid 1920's, Carl Fisher traded 7-acres of Fisher Island for a yacht owned by William K. Vanderbilt II. From 1927 to 1934 – Vanderbilt increased his land holdings on the island to an estimated 13-acres, having been advised by Carl Fisher that the surrounding property would one day be developed into real estate for sale. In 1936 Vanderbilt began building his $1.5 million private island retreat on Fisher Island with a Mediterranean-style mansion. He surrounded this mansion with lush landscaping, gracious guest homes, tennis courts and swimming pools. William and his wife, Rosamund enjoyed entertaining the luminaries of their time on this island paradise. Vanderbilt named his glorious retreat on Fisher Island "Alva Base", which was also the name of his German built 264' diesel yacht he docked at the island. Nicknamed, "The Floating Mansion", this yacht contained 8 staterooms and required a crew of 49. His mothers name was Alva, so more than likely he named his yacht and the home after his mother. In 1941 the main home and the surrounding guest cottages were completed. In 1944 William Vanderbilt passed on. The Fisher Island Club published Fisher Island's history. It continues as follows: 1945 – After Vanderbilt's death, Rosamund Vanderbilt sold the estate to Edward S. Moore of U.S. Steel. (stockholder of the Hialeah Race Course).1946 – Edward Moore passed away and his widow sold the estate to Garfield Wood, "The Speed Boat King". Wood, aka: Gar Wood was the developer of the hydraulic hoist, which revolutionized the trucking industry. He also designed the PT boat of WWII. During the 25 years he lived on the island, he worked on the electric car design and military boat designs. Garwood added what is now known as the Garwood Lounge. Carl Fisher still owned part of the island. 1960 – 1968 - The City of Miami had a quarantine station in the northeast side of the island. Later, a section of the island was used by the University of Miami Marine Biology Lab, and Belcher Oil maintained storage tanks on the northwest side of the island. 1971– Garfield Wood sold his 13.2-acre estate to the investment group. This group was headed up by Charles G. Rebozo (Bebe), friend of United States President Richard Nixon; they took possession of the entire island. 1979 – Additional tracts sold in 1979 to Island Developers Ltd., a partnership that included Rebozo's nephew Bill among others. After various changes in ownership, the island sat vacant for over 15 years until development on the island began in the 1980s. 1987 - Fisher Island opens as a Club. 1993 – Fisher Island Club becomes an Equity Club. 2006 – Fisher Island Club takes control of the club properties from Fisher Island Holdings, LLC and operates the club independently. Today Fisher Island remains one of America's wealthiest zip codes.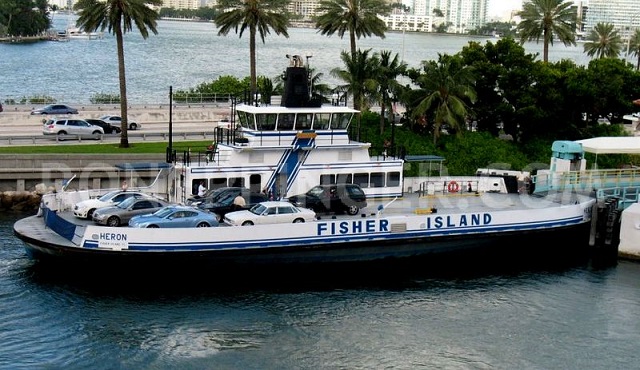 Fisher Island Ferry - the only way to reach the Island from Miami Beach
The Fisher Island Club offers a variety of exclusive amenities such as:
-Social activities planned throughout the year for its members including sports tournaments, theme parties, cultural events and other social functions.- Accommodations at the Fisher Island Hotel & Resort, voted as Miami's best resort hotel by Zagat's Survey and a member of the Leading Hotels of the World. For online reservations, click here: Fisher Island Hotel & Resort. For cancellations, click here.-Full Catering for banquets, private parties and meetings.-The Beach Club and pool facilities at the Mansion.- The Spa Internazionale has been recognized by Town & Country as one of the best European and American health and beauty treatment centers.- The Marina & Yachting Center is made up of two surge-proof, deep-water marinas with 131 slips capable of accommodating yachts up to 200+ feet.- 8 of Miami's top casual and fine dining restaurants and lounges, including: The Garwood Lounge and City View Caf? at the Vanderbilt Mansion; The Beach Club, Caf? Porto Cervo, La Trattoria, The Golf Grill, Sunset Bar, Caf? Tangier.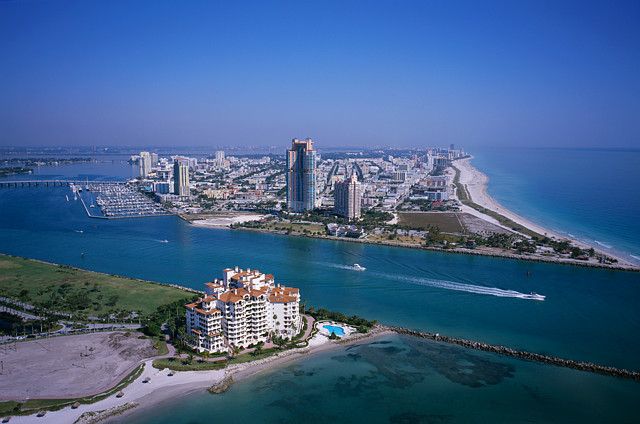 View Of Fisher Island Looking North To South Miami Beach
- The Links at Fisher Island is a par 35 championship nine-hole course designed by the celebrated course architect P.B. Dye. - A grand slam Tennis Center consisting of 18 lighted Har-Tru clay, grass and hard courts. - A commercial center including a gourmet Island Market, flower shop, Sassy Boutique (jewelry, clothing, home decor) and bank. - The Spa Internazionale rated as America's top ten by Town & Country Magazine. - An experienced catering staff for all banquets, private receptions and meetings. - A world-renown Marina & Yachting Center, encompassing two-deep-water marinas. - A grand slam Tennis Center with 18 tennis courts. - A prestigious championship golf course, The Links. - 8 of Miami's exquisite fine dining and casual restaurants. - A commercial center with a high-end gourmet market and sophisticated shopping. - A polo field and private pristine beaches over a mile and half long. - The Fisher Island Day School Pre-K-5 grade, a large playground for kids of all ages. - An on-Island fire & emergency station and post office. - Car ferry, seaplane, yacht and helicopter access 24 hours a day.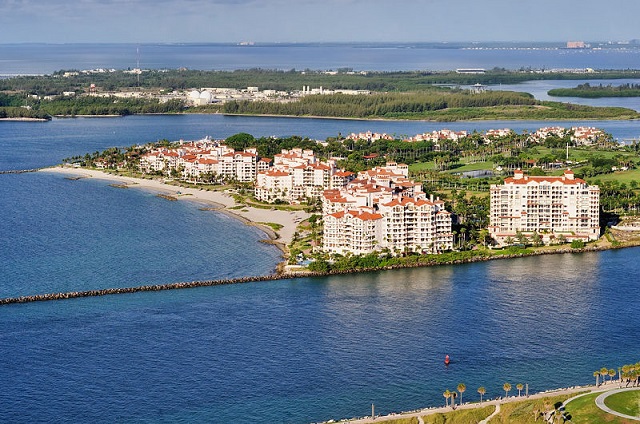 Fisher Island Areal view
Fisher Island Condo at 7912 Fisher Island Drive Sold for 60% ofthe Asking Price
A Fisher Island condo, on the ground floor, just steps away from the ocean with northeast views of the pool, and cruise ships in the distance, and just a few steps from the beach, sold last week for $5,457,000, just over 60% of the $8,970,000 asking price. The finely designed home, features a master bedroom suite, with an adjacent gym, and renovated and expanded guest bedrooms. The 5,600 square feet condo has 5 bedrooms, and 6 bathrooms. Originally listed in August 2007 for $12,500,000, the price was dropped twice, and the property finally sold for less than half of the original price. The sale should serve as a good lesson to those sellers who have a need to sell, but are still pricing their properties at inflated values, remaining oblivious to present real estate market conditions. Fisher Island real estate encompasses a 216-acre private island residential community of unrivaled luxury and splendor. The classic, Mediterranean style, private residential community of Fisher Island is nestled in a tropical-lush island club resort. Here, residents discover the privacy and security of an island where cultures from 40 nations blend against the backdrop of a cobalt-blue sky and the Atlantic Ocean. This private Miami Beach community, with its own zip code, is easy to reach by boat, seaplane, helicopter or car ferry.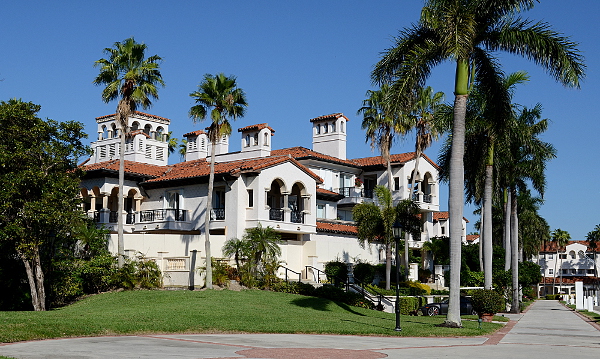 Fisher Island Condo Development
Fisher Island Condo Sold For $5,600,000
5031 Fisher Island Drive Sold For 5.6 Million Dollars
A beautiful Fisher Island home, which was listed on the market for sale at an asking price of $7,500,000, closed yesterday for $5,600,000, a reduction of almost $2,000,000 or 25 percent. The condo boasts almost 7,000 square feet of living area, with 3 oversized bedroom suites, and 4 and one half bathrooms.
There is a formal state of the art kitchen, a formal dining room, and a spacious living room with expansive patios. In this setting, one can enjoy views of the bay, the city and the forever changing sunsets. Built in 2004, this condo is a "smart home" with advanced technology. Fisher Island is a 216-acre private island residential community of unrivaled luxury and splendor. Residents, club members and hotel and resort guests enjoy a host of sumptuous amenities. Although Fisher Island is part of Miami Beach, it has it's own zip code, 33109, and if you want to get on or off of the island, you must take a ferry.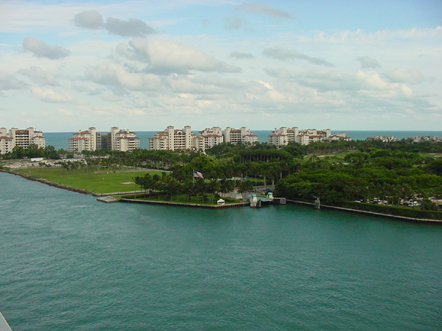 Ultra Luxury Home For Sale On Fisher Island
$15,500,000 can buy this ultra-luxury Fisher Island home. Completely renovated with 5 bedrooms and 6 and one half bathrooms, this marvelous home boasts 8,900 square feet of living space, along with amazing direct oceanfront views, as well as views of Government Cut, and the Fisher Island golf course. Fisher Island is one of the most exclusive zip codes in America, and can be reached from Miami Beach, by taking a ferry to the island. Fisher Island has a full service marina, a private beach club and golf course, 7 restaurants, and a gourmet market. For anyone interested in in this home, call 786-344-8776 for more information.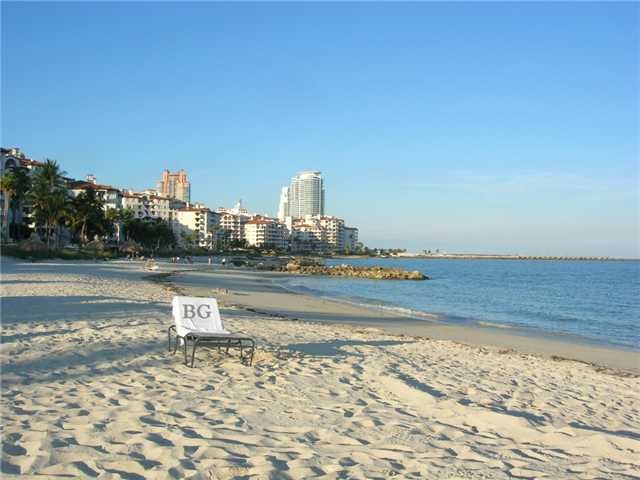 View of Beach On Fisher Island, Florida 33109
Exclusive Fisher Island In Hot Water
I received a very interesting email this morning, informing me that this weekend hundreds of people are going to protest discriminatory and abusive treatment of the workers that clean, maintain, and protect Fisher Island, a neighboring Miami Beach community and one of the most exclusive neighborhoods in the U.S.A.From Jimbo's to Fisher Island Nov 17th: Activist Armada of Small Boats to Take "Private" Beach of Exclusive Fisher Island Public Visual: A dozen decorated small boats will ferry more than a hundred activists close to shore of Fisher Island. Activists will then swim to island with purple flags and beach umbrellas. MIAMI, FL—An armada of decorated boats will carry hundreds on Saturday November 17, to the sheltered and until now thought to be off-limits beaches of Fisher Island, named the nation's most expensive zip code by Forbes and labeled "Fantasy Island" by the New York Times, to protest discriminatory and abusive treatment of the workers that clean, maintain, and protect the island. Participants will meet at Jimbo's, the iconic smoked fish and boat dock on Virginia Key at noon. The first wave of boats will leave Jimbo's at 1:00 p.m. In a letter to Joseph Kay, president of Fisher Island Holdings, LLC, the company that runs the island, SEIU notified the island of the guaranteed public access to the Fisher Island beach according to the Florida Constitution and Covenant 12 of the Second Substituted Declaration of Restrictive Covenants Governing Development of Fisher Island. The covenant also states that the public shall have access to this beach by means of a "public easement pathway" leading "from the ferry boat landing" to the beach. SEIU asked the island to allow the boats to dock at the Fisher Island Marina and to provide a public pathway to the beach. If not allowed to dock, participants plan on SWIMMING FROM THE BOATS TO SHORE.
WHAT: Boat launch to take "private" Fisher Island beach public
WHO: More than a hundred community activists
WHEN: Saturday, November 17, 12:30 p.m. First wave of boats will leave at 1 p.m.
WHERE: Jimbo's on Virginia Key to Fisher Island Directions to Jimbo's: Take the Rickenbacker Causeway to Virginia Key. Take the first left after the light at Mast Academy, and follow the signs.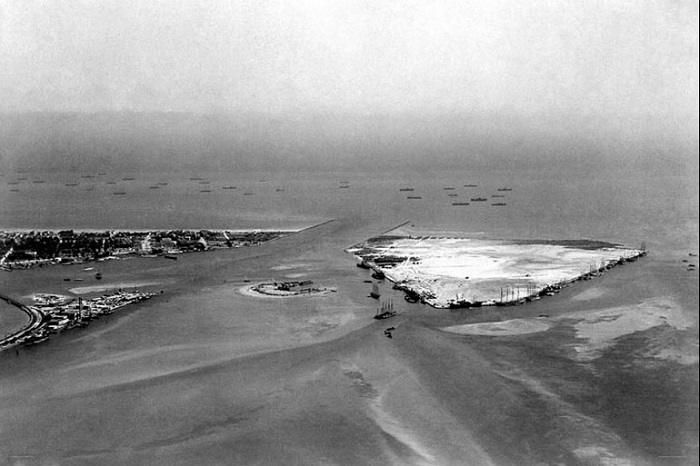 Fisher Island and Terminal Island in 1915
South Beach Condos
1500 Ocean Drive Condos For Sale - Bentley Bay North Condos For Sale - Bentley Bay South Condos For Sale
Bentley Hilton Beach Condos For Sale - Capri South Beach Condos For Sale - Glass Condos For Sale
Icon South Beach Condos For Sale - Il Villaggio Condos For Sale - Mondrian South Beach Condos For Sale
Murano Grand Condos For Sale - Netherland Condos For Sale - Ocean House Condos For Sale - One Ocean Condos For Sale
Portofino Towers Condos For Sale - The Tides Condos For Sale - W Hotel Condos For Sale - Yacht Club At Portofino Condos For Sale
Miami Beach Condos
Akoya Condos For Sale - Azure Condos For Sale - Bath Club Condos For Sale - Blue Diamond Condos For Sale - Canyon Ranch Condos
Edition Residences Condos For Sale - Fontainebleau II Condos For Sale - Fontainebleau III Condos For Sale - Green Diamond Condos
La Tour Condos For Sale - Mosaic Condos For Sale - Solimar Condos For Sale - The Caribbean Condos For Sale - Villa Di Mare Condos
Miami Beach Homes - Miami Beach Condos