Who Wants To Buy A Gables Estates Home at 11 Casaurina Concourse In Coral Gables for $49.5 Million?
One of Miami's loveliest communities is the city of Coral Gables, just south of Miami; and one of the most beautiful neighborhoods in Coral Gables is Gables Estates, an area with ultra-luxurious homes nestled in a community of 193 properties, and residence of former Miami Heat coach Pat Riley. Entering the guard-gated, exclusive community of Gables Estates, via Casaurina Concourse, and driving all the way to the very end of the peninsula, passing some of the most beautiful homes in Florida, one finds him/herself in front of, perhaps the most grandiose property in all of Coral Gables, 11 Casaurina Concourse, home of Alan Potamkin.
Situated on a 3.5-acre lot, the spacious 20,862 square feet house, with 8 bedrooms, 11 bathrooms, and 2 half-baths, faces the open waters of Biscayne Bay, with breath taking, testimonial views of Miami's unmatchable beauty. It is no wonder that Miami is so often referred to as the magic city.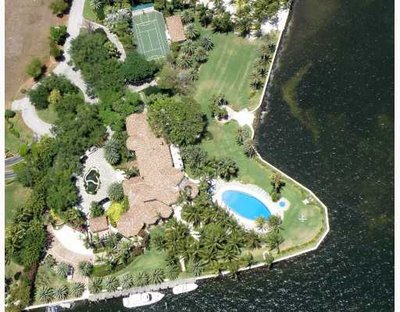 11 Casaurina Concourse Coral Gables Florida - Home of Alan Potamkin
Last week, the estate was listed for sale with a price tag of $49,500,000, making it Coral Gables most expensive home. The property juts into Biscayne Bay and is surrounded by 880 linear feet of waterfront. Attached is a 150 feet long dock to accommodate a yacht of equal length. Replete with a lighted tennis court, adjacent to a private guest suite, which sits on it's own acre, the estate was built to satisfy those who can afford the very best in real estate.
Some additional features of this marvelous Coral Gables mansion are an upstairs master suite with a full gym, billiard and media rooms, luitron lighting & a 12-camera security system. Any takers?