North Bay Village Real Estate
North Bay Village Homes For Sale
The City of North Bay Village is a three-island community situated in northeast Miami-Dade County between the cities of Miami and Miami Beach. The three islands - North Bay Island, Harbor Island and Treasure Island - are linked by the John F. Kennedy (79th Street) Causeway, which extends across Biscayne Bay from Miami to Miami Beach. The City has excellent access to major airports, beaches, downtown Miami and Broward County via I-95 and 79th Street.
Surrounded by the sparkling waters of Biscayne Bay, North Bay Village enjoys a mild year-round climate. Steady tropical breezes keep the winters moderate and the summers cool.
Prior to 1940, most of what is now North Bay Village lay beneath the waters of Biscayne Bay. The only dry land was Broadcast Key, a five-acre island from which pioneer radio station WIOD began broadcasting in 1926. Today, television station WSVN-TV maintains its headquarters at this same site, now joined with Treasure Island. In 1940, dredging and bulk-heading created North Bay Island. By 1941, palm-lined streets had been laid out, and 12 homes had been built and occupied. Today, the island has grown into a lush neighborhood of attractive single-family residences.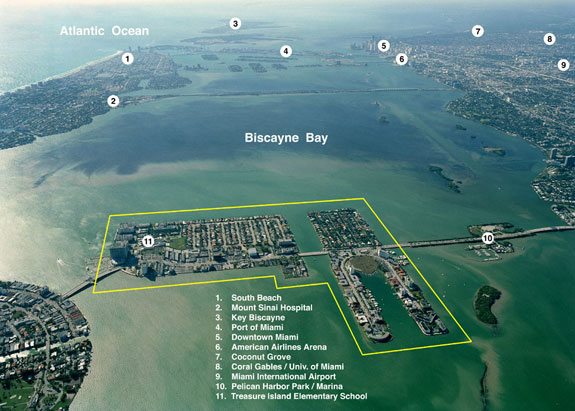 During the mid 1940's, dredging and filling created Harbor Island and Treasure Island. Harbor Island is composed primarily of multi-family buildings. Treasure Island, whose street names were drawn from Robert Louis Stevenson's novel Treasure Island, is a mixture of single family dwellings on the westerly end and multi-family dwellings on the eastern end.
North Bay Village was incorporated in 1945. Harbor and Treasure Islands were annexed several years later. Broadcast Key, also known as Cameo Island, was annexed in 1963. During its early years, North Bay Village was primarily a haven for winter residents. The City became widely known for its popular restaurants and nightclubs, which attracted celebrities like Frank Sinatra and Judy Garland.
Most of today's residents live here year-round. North Bay Village continues to be home to several of South Florida's most popular restaurants, as well as a variety of business enterprises, apartment buildings, condominiums and 376 single-family homes.
The total City of North Bay Village tax rate is the 8th lowest of the 35 municipal taxing authorities in the county during the current 1999-2000 Fiscal year, according to the most recent figures supplied by Miami-Dade County.
Despite this low rate, North Bay Village offers a high level of services to its residents. Only 20% of all property taxes go to the City with the remaining 80% going to Miami-Dade County, public schools and other agencies.